Back to search results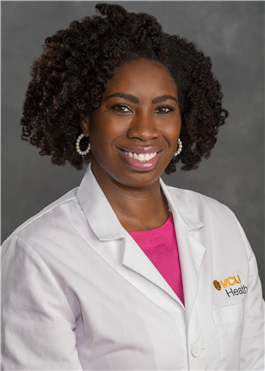 Alison Kingcade, FNP
Obstetrics and Gynecology
Education
Nursing School
Delaware State University
Graduate Nursing Program
University of Delaware School of Nursing
Biography
A provider and advocate for your reproductive and sexual health
Alison "Ally" Kingcade is a family nurse practitioner (FNP) passionate about delivering vital reproductive healthcare, sex education, and primary care to patients.
Even more, she is an advocate for women and transgender patients who are sometimes unable to speak for themselves when it comes to their reproductive care.
"I want to offer a caring spirit and empathetic heart to every one of my patients. It's not only my passion, but I firmly believe this is my purpose in life," she says.
In 2023, Kingcade joined the VCU Health Obstetrics and Gynecology team after serving four years at Planned Parenthood of Delaware, and later, in Virginia. Prior to Planned Parenthood, she spent more than seven years as a progressive care nurse at a Level 1 Trauma Center in Delaware, treating patients living with chronic conditions or those recovering from surgery, wounds, or injury.
As a board certified family nurse practitioner certified by the American Academy of Nurse Practitioners (AANP), Kingcade has built deep knowledge on conditions such as abnormal and irregular vaginal bleeding, polycystic ovary syndrome (PCOS), menopause, vaginal infection, sexually transmitted infections (STIs), urinary tract infections (UTIs), substance-use disorders in pregnancy, and high blood pressure. At VCU, Kingcade is part of the OB MOTIVATE Clinic, offering women treatment and support for substance use disorders during and after pregnancy.
She also educates patients on reproductive care, sex, and — as many women use their OB/GYNs as their main healthcare providers — basic primary care.
"As a family nurse practitioner specializing in women's health, I am the perfect person that can provide continuity of care," she says. "My job gives me the opportunity to deliver equitable care regardless of a patient's unique medical needs or circumstances. Patients come to me at their most vulnerable state, and they entrust me with their care, and I will never take that for granted."
Advice to patients: "Your life is your responsibility, so try to be your best advocate. And if you cannot, I will advocate for you."