Back to search results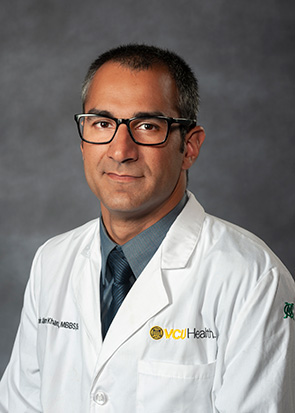 Aamir Khan, MBBS
Education
Medical School
Acharya Shri Chander College of Medical Sciences, India
Residency
Sher-i-Kashmir Institute of Medical Sciences, India – General Surgery
Fellowship
VCU Medical Center, Transplant Surgery
Fellowship
University of Iowa Hospitals & Clinics – Transplant Surgery
Biography
Treating patients by transforming their lives
Dr. Aamir Khan doesn't like to see people suffering. To him, transplant surgery offered an unparalleled avenue for helping many patients get rid of their diseases – and live better lives. Transplantation is a rare medical specialty that can deliver such a drastic impact in near real time.
"Seeing my patients completely transformed and healthy after they were not even recognizable is something that one can only experience as a transplant surgeon," he says. "Giving my patients this second chance of life, in my opinion, is the most satisfying feeling."
Dr. Khan performs solid-organ transplants for liver, kidney and pancreatic patients, and he also is a leader in robotic surgery to remove kidneys from living donors. His operating skills also include resections – removing a portion or more – of the liver, a common approach for benign and malignant tumors. He routinely employs minimally invasive techniques to treat diseases of the liver and gallbladder.
"The field of transplantation has rapidly evolved especially in the last couple of decades, especially with the application of minimally invasive techniques," he said. "Our patient demographics have also changed a lot, and we have growing knowledge and insights to perform successful transplants with sicker, older and more obese patients."
Dr. Khan's research focuses on cutting-edge technology of robotics for transplant surgery. He continues to explore new opportunities to apply robotic techniques in transplantation, and he is studying the long-term health of living donors who underwent robotic surgery. In addition to tracking liver and transplant outcomes, Dr. Khan is part of a clinical trial that is investigating a new technology that could better preserve organs, potentially expanding the availability of more organs and changing more lives.
Many of his patients have been diagnosed with end-stage liver disease, kidney failure and liver tumors. He also treats patients who need vascular access for dialysis. Most are middle-aged adults or older, but he does see patients of all ages.
"The most challenging aspect of my job is also the most rewarding part," Dr. Khan says. "That is getting a very sick patient who has been given a poor prognosis by others to undergo the most difficult and challenging surgery – and giving them a new lease of life."
Professional Affiliations
American Society of Transplant Surgeons
American Society of Transplantation
Association of Surgeons of India