Back to search results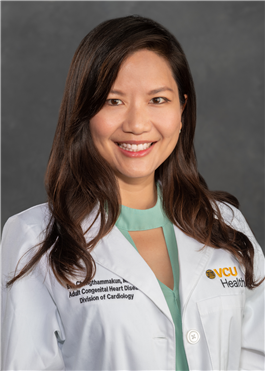 Vasutakarn "Eve" Chongthammakun, MD, PhD, FACC
Cardiology
Adult Congenital Heart Disease
Cardiovascular Disease
Education
Medical School
Faculty of Medicine Siriraj Hospital, Mahidol University
Internship
Cleveland Clinic
Residency
Cleveland Clinic
Fellowship
Jackson Memorial Hospital/University of Miami
Fellowship
Medical College of Wisconsin/Children's Wisconsin
Biography
Adult born with a heart condition? Meet Dr. Eve.
There are many adults who were born with a heart issue, had it treated as a child under the known medical science of the time, and never did anything more. It's these people whom Dr. Vasutakarn "Eve" Chongthammakun wants to see. Dr. Chongthammakun ("Chong-tomma-kewn") — or as most patients call her, Dr. Eve — specializes in treating adult congenital heart disease (ACHD).
"Back in the day, no one knew what to do with these patients, so doctors would treat them and release them into the community," she says. "Then they'd fall through the cracks and develop serious long-term complications. So it's very fulfilling to be able to provide true, advanced care for these patients."
"For the patients and the local doctors in Virginia, there are so many patients out there who need to come see us at Pauley Heart Center," she says. "Sometimes we catch them in time, but sometimes it's too late.
Dr. Eve joined VCU Health Pauley Heart Center with a mission of developing the first accredited adult congenital heart disease program in Virginia. "And once we establish it, we're planning to expand it in terms of education, research, and even start a fellowship in adult congenital heart disease for aspiring ACHD subspecialists," she says.
Born in Thailand into a family of healthcare professionals, Dr. Eve has an MD/PhD in pharmacology. She completed her residency in internal medicine at The Cleveland Clinic, followed by a cardiology fellowship at the University of Miami's/Jackson Memorial Hospital. She followed it with a fellowship in adult congenital heart disease at the Children's Wisconsin/Medical College of Wisconsin.
For patients who had their heart repaired in the past as an infant or child, typically such fixes were only palliation — treating the symptoms, but not the underlying cause of disease, which can sometimes lead to long-term complications. "They still require ongoing care — more surgeries, more interventions, more procedures, and greater follow-on," Dr. Eve says. "Cardiology is one of only a few fields where interventions work and truly save lives."
Today, she says, thanks to advances in medical and surgical fields, congenital heart disease patients are living much longer and well into their geriatric years.
Pauley's growing ACHD team includes two physicians, Dr. Eve and Dr. Sangeeta Shah, as well as nurses and support staff. They also coordinate closely with pediatric cardiology teams to identify kids who are born with heart disease to put them on a proper lifelong course of treatment.
"A lot of times there are no direct guidelines on what to do, so it requires a lot of coordination, discussion, and expertise," Dr. Eve says. And when it comes to that care, the key, she says, is developing a plan together. "This is not just me making a recommendation, but a plan that will work best for both you and I," she says. "And there is no better reward at the end of the day than settling on a plan that ends up saving someone's life."
Dr. Eve comes to VCU and Richmond from Lynchburg, and enjoys hiking and getting in as much aerobic exercise as she can get — at least 150 minutes per week per the American Heart Association guideline, which is her recommendation to all her patients to help prevent acquired heart disease.