Back to search results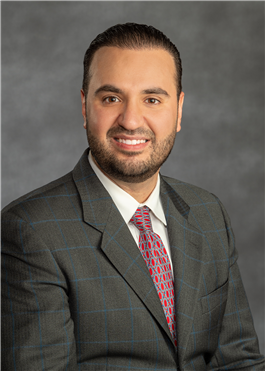 Mohammed Makkiya, MD
Education
Medical School
University of Al Mustansiriyah College of Medicine
Residency
Montefiore Medical Center/Albert Einstein College of Medicine
Fellowship
Montefiore Medical Center/Albert Einstein College of Medicine (Cardiac Imaging/Cardiovascular Fellow)
Biography
An innovator focused on care, collaboration, and bringing attention to a rarely diagnosed condition.
For Dr. Mohammed Makkiya, the key to great cardiac care lies at the intersection of clinical research, a patient-centered focus, and collaboration.
Every heart patient brings with them their own unique history, and Dr. Makkiya delivers to them an individualized plan that is developed in tandem with a multidisciplinary team of physicians.
"We always want to be focused on improving our patients' quality of life," he says, "and VCU Health's commitment to excellence means that we have access to the latest innovations in the field to help our patients."
Dr. Makkiya specializes in hypertrophic cardiomyopathy, a condition in which the muscle of the heart is abnormally thick. "It's a condition that has been widely underdiagnosed," he notes. "There are over a half a million people in the United States living with it, and they are often asymptomatic and unaware."
When a person is living with "HCM," the thickened muscle of their heart can make it difficult for the heart to pump blood efficiently. The heart, he notes, essentially strangles itself, and has to work harder to supply more flow. By utilizing state-of-the-art cardiac imaging, Dr. Makkiya can make an early diagnosis and help prevent more severe complications in the future. In addition, the field is advancing and new treatments are under study that can help in the management of patients with the condition.
One of his goals at VCU Health, Dr. Makkiya says, is to become a leader in his own work and turn the health system into a national leader for treatment of those with hypertonic cardiomyopathy.
"Everything that we do at VCU Health is focused on providing the best quality, comfort, safety and patient care," Dr. Makkiya says. "We want our patients to come here knowing that they are getting the best treatment, guided by the latest in clinical research, and that their wellbeing is our number one priority."
Advice to Patients
"Facing a diagnosis of heart disease can be an intimidating prospect, and there is a lot of misinformation out there that can add to your anxiety. I want my patients to know that we will explain everything to them and make sure they are educated about their condition, all the while providing them with reassurance and the most innovative treatment possible."