Back to search results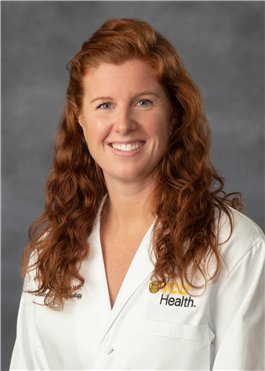 Lindsey P Pflugner, MD
Obstetrics and Gynecology
Women's Health
Locations
Education
Medical School
VCU School of Medicine
Residency
George Washington University
Biography
Proud to serve RVA's women with quality care and education
Dr. Lindsey Pflugner returned to VCU Health after earning her medical degree at the VCU School of Medicine, and is committed to providing the highest level of care to women of all life stages and backgrounds throughout Central Virginia.
As part of our Women's Health team, Dr. Pflugner treats women for conditions including abnormal or heavy menstrual bleeding, pelvic pain related to fibroids, and provides comprehensive contraceptive counseling. She is also a surgeon specializing in minimally invasive approaches (less scarring, faster recovery) to gynecological conditions, when necessary. She also — "proudly," she says — cares for women during their pregnancy, labor, and delivery.
"To succeed in my specialty takes compassionate, thorough, patient-centered care as well as a good foundation of medical knowledge and surgical skill," says Dr. Pflugner, who, in addition to a medical degree, holds a master's in biological sciences.
Recognized during her OB-GYN residency at the George Washington University with an Excellence in Teaching Award, Dr. Pflugner describes "true excitement and engagement for educational endeavors." That sentiment applies to helping patients understand their condition (and possible treatment), as well as students and residents in her role as an assistant professor in the VCU School of Medicine's Department of Obstetrics and Gynecology.
"As professors and practicing providers, we have the ability to empower learners by applying multiple teaching approaches to accommodate a wide audience — and that goes for patients, students, and residents alike," she says. "In the medical school specifically, I take great pride in shaping confident and competent physicians to become compassionate and capable providers for our community."
Intensive education – through books, classes, and hands-on experience — equips OB-GYNs like Dr. Pflugner for the challenges of the specialty. Her work often requires identifying the best medical or surgical approach — or sometimes both — to conditions impacting her patients' quality of life. Pregnancy also creates layers of complications in the physical, emotional, and physiologic levels of women.
"My approach is to simply explain the problem or condition and its treatment in plain terms to empower women to make decisions most in line with their interests," Dr. Pflugner says. "I want my patients to come away feeling like we are on the same team."
Advice to patients: "Never stop advocating for yourself. Don't be afraid to ask questions. We are here for you."