Back to search results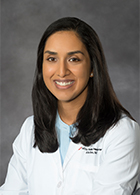 Krishnasree Rao, MD
Education
Medical School
Drexel University College of Medicine
Internship
University of Texas Southwestern Medical School
Residency
University of Texas Southwestern Medical School
Fellowship
University of Texas Southwestern Medical School
Biography
Originally from Pittsburgh, Pennsylvania, Dr. Rao is a cardiologist at the Pauley Heart Center with expertise in heart failure and heart transplant. She has been an associate professor at VCU School of Medicine since August 2015.
Dr. Rao has been a member of the American Heart Association since 2010, the International Society of Heart and Lung Transplantation since 2012 and the Heart Failure Society of America since 2016. Her research interests include heart failure management, cardiac transplantation and mechanical circulatory support devices. Her work has been published in the American Heart Journal, and she has made poster presentations for both the American Heart Association and the International Society for Heart and Lung Transplantation.
Dr. Rao has volunteered with both the Healthcare Outreach Program – Streetside Clinic and the Recovered Medical Equipment (REMEDY) organizations in Philadelphia.
Clinical Interests
Heart Failure; Heart Transplantation; Mechanical Circulatory Support Devices