Back to search results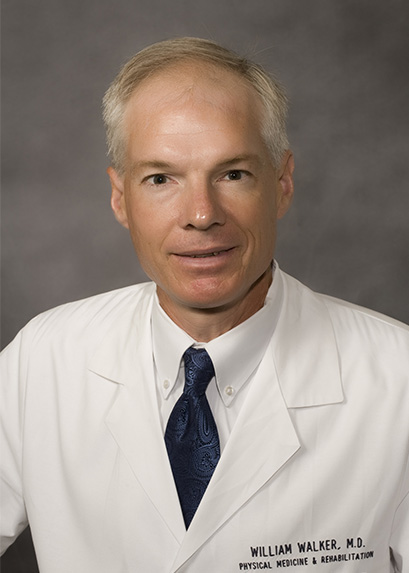 William C Walker, MD
Physical Medicine and Rehabilitation
Physical Medicine and Rehabilitation
Locations
Education
Medical School
VCU School of Medicine
Residency
VCU Medical Center
Biography
Holistic and advanced treatment for brain injuries
Every year, more than 4 million people in this country are diagnosed with a traumatic brain injury (TBI) including concussions, which are the mildest form. Whether that brain injury was caused by a tackle on the football field, impact in a vehicle crash or military combat, Dr. William Walker is looking for better answers on treating concussions and more serious Traumatic Brain Injuries, as well as improving long-term brain health and reducing risks of developing future problems.
As a physician specialist in Physical Medicine and Rehabilitation (PM&R) – a specialty that traces its origins to caring for wounded servicemen and laborers during both World Wars – Dr. Walker focuses on neuro-rehabilitation and brain injuries. In treating conditions that can involve the brain, spinal cord, nerves, bones and connective tissue, his discipline aims for non-surgical treatment, with an emphasis on rehabilitation strategies and therapies. He also treats people with non-traumatic brain injuries, including those from aneurysms, infarcts, hemorrhages or tumors.
Both interested in and intrigued by the complexities of the human brain, Dr. Walker was drawn to the specialty for its focus on treatment and recovery, which requires a holistic approach that helps patients understand how their medical condition impacts their daily life, including work and recreational activities. "I have a passion for science and the desire to work directly with people in using science to help them," says Dr. Walker, the Ernst and Helga Prosser Professor of Physical Medicine and Rehabilitation. He has published scholarly journal articles that have advanced the understanding of brain injury, neurologic rehabilitation, orthopedic injury recovery and more.
"Improvement comes in many shapes and forms – from full recovery to mastering strategies for living life to its fullest, despite having impairments that won't go away," he says.
The VCU Health Brain Injury Rehabilitation Program, led by Dr. Walker, offers interdisciplinary inpatient and outpatient treatment. VCU is one of only 16 federally designated centers of its kind – seeking ways to bring immediate relief to TBI patients, and address lasting effects that can cause long-term difficulties.
Dr. Walker stresses that brain injury treatment must address a wide variety of symptoms. To start, that includes physical symptoms, such as headaches, dizziness and fatigue. Equally important are cognitive (problems with memory, concentration, finding the right words and making decisions) and emotional (including depression, anxiety and irritability) symptoms.
"Because the brain is so complex, no two patients are the same. That requires me to tailor both how I treat my patient, and how I educate them to best manage their condition," he says. "A mild concussion might heal fully, for example, in one patient, while a more severe TBI might leave another patient in a coma, with months passing before any active rehabilitation can begin."
In one high-profile research program, Dr. Walker and the VCU PM&R team are looking at the impact of concussions and repeated concussions among a group of over 1,600 U.S. veterans and service members enrolled at 8 centers across the U.S. Funded with a $62.2 million grant from the Departments of Defense and Veterans Affairs, the VCU-led Chronic Effects of Neurotrauma Consortium, or CENC conducts repeated neurologic testing over the person's lifetime to understand both the causes of neurologic problems later in life and how to improve interventions.
In his clinical practice, Dr. Walker treats new patients as family members, and that approach is reflected in how he manages their care. "I want my patients to know that I provide the same recommendations that I would offer to a close family member," he says.
Much as he advises his patients to be physically active, Dr. Walker spends his time away from VCU enjoying running and hiking. His personal interests also include reading and traveling.