Back to search results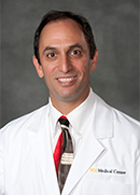 Richard K Sterling, MD
Gastroenterology
Hepatology and Nutrition
Locations
Education
Medical School
Thomas Jefferson University Medical College
Internship
VCU Medical Center
Residency
VCU Medical Center
Fellowship
VCU Medical Center
Biography
Saving lives through research 'is the most rewarding part of my job'
Dr. Richard Sterling doesn't just have patients — he has partners. "From that first meeting I have with the patient, I take the time to listen to their concerns, explain what I think is happening in their body, and work with them to create a plan to improve their health," says Dr. Sterling. "I want them to know that this will be a partnership."
As a hepatologist, Dr. Sterling treats individuals living with both acute and chronic liver diseases, and has a special expertise in viral hepatitis, liver disease in HIV patients, and non-invasive biomarkers of liver disease and cancer. As a professor of medicine and hepatology section chief at the VCU School of Medicine, he is an active participant in global research in the field of liver disease.
"There has been tremendous growth in our knowledge and understanding of many acute and chronic liver conditions," says Dr. Sterling. "We have gone, in a short time, from not knowing what the hepatitis C virus is to curing it in more than ninety percent of those infected – and with only a simple, once-daily pill regimen that has almost no side effects. Liver transplantation has gone from experimental to a common routine. The growth in hepatology has been astounding."
Dr. Sterling has published nearly 200 papers on a variety of hepatology-related conditions and had his research into HIV-liver disease supported by several grants from the National Institutes of Health. "When you work in an academic environment like VCU, you have access to an endless opportunity of research that can advance our field," says Dr. Sterling, who developed a tool based on routine blood testing that is used worldwide to determine whether someone has liver scarring. Other research interests include biomarkers for hepatocellular carcinoma, viral hepatitis, and liver transplantation. "Having the opportunity to save lives through my research and findings is one of the most rewarding parts of my job."
Research interests
Dr. Sterling's interests include viral hepatitis, liver disease in those living with HIV, and non-invasive biomarkers of liver disease and liver cancer. He serves on several prominent committees of national associations such as the American Gastroenterological Association, American Association for the Study of Liver Diseases, and American College of Gastroenterology and has served on several study sections of the NIH.
Clinical Interests
Hepatology; Liver Diseases; Liver Transplantation