Back to search results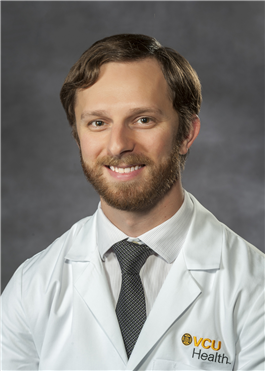 Cory Trankle, MD
Education
Undergraduate
Emory University
Medical School
Medical College of Georgia
Internship
VCU Medical Center
Residency
VCU Medical Center
Fellowship
VCU Medical Center
Biography
Providing the highest quality care through research, technology, and collaboration across the health system
Cory Trankle, MD is part of a growing imaging care team at VCU Health Pauley Heart Center focused on diagnosing both routine and complex heart conditions and directing or providing personalized, high-quality treatment. "We often see patients and their family members at one of the worst moments in their life as they are experiencing a health problem," Dr. Trankle says. "To improve their symptoms, and prove that we are here to help them, can have a profound impact on their outlook and quality of life."
As a non-invasive cardiologist, Dr. Trankle sees patients with heart issues in a scheduled clinic setting or when unexpectedly admitted to the hospital. He analyzes heart ultrasounds, MRIs and stress tests to diagnose conditions and guide individualized treatments. He also prescribes and monitors medications while balancing the risks and benefits that such medicines carry. Since the heart is such a critical organ and problems can lead to dysfunction in other organ systems, cardiologists such as Dr. Trankle maintain a strong foundation in internal medicine and often interact with various subspecialty providers, along with heart surgeons who may be required to treat some patients.
"Cardiology is a complex specialty, and patients with heart conditions often do not respond to a 'one-size-fits-all' approach, but rather, more individualized therapy," he says.
With an interest in clinical research, Dr. Trankle is always seeking the best methods to diagnose and screen patients. Cardiac MRI technology, for example, is advancing at a pace that he expects will soon allow for faster, more comprehensive studies to provide precise information about one's heart. Technology is also aiding in the interpretation of patient studies, and can often detect issues that may not be obvious to the human eye — providing an even better diagnosis.
"One of my strengths is the ability to identify a problem, which has not been well studied, yet is one we routinely face. We come up with a rigorous way to study the problem, and when the study is complete, the results may have direct implications for how we diagnose or treat patients," he explains. "No researcher exists alone," he adds, which is why collaboration with senior cardiology mentors and other specialties such as pharmacists, exercise physiologists, nutritionists, and physicians "has been critical for me" in successfully filling knowledge gaps within his area of expertise.
Dr. Trankle has been recognized nationally and by his residency alma mater, the VCU School of Medicine, including recognition for his research. At Pauley, he oversees a team of fellows, residents and students. He is board-certified in internal medicine and echocardiography ultrasounds.
Patients can expect thoroughness from Dr. Trankle, addressing symptoms and potential contributing factors while working together to come up with a treatment plan. "Everyone will interact with the medical system at some point, often unexpectedly, and that the experience can be a good or bad one. I am driven to be the type of physician, both from a compassionate standpoint and from a medical knowledge base, who can provide the level of care that patients need and deserve when they are ill," he says.
He also wants patients and their families or caregivers to speak up and serve as a key player on the care team. "Too often, patients may feel shy about speaking up when they do not understand something or if they are uncomfortable with their doctor's recommendations," he says. "We want our patients to feel empowered to and to take an active role in their own care."
Dr. Trankle is an avid outdoorsman who enjoys spending time with his family, whether at the James River, state parks, mountains or the beach.
Affiliations and Research Interests
Dr. Trankle has research interests the atria (the heart's top chambers) and how its functionality impacts the ability to exercise. He's also part of a multidisciplinary group of researchers studying cardiomyopathy and conditions related to the thickening of the heart muscle, patients who are receiving cancer treatments that may be damaging to the heart, and patients with severe forms of heart failure requiring a mechanical pump.
Dr. Trankle has co-written numerous peer-reviewed articles published in medical journals related to heart health. He's a member of the American Heart Association, the Society for Cardiovascular Magnetic Resonance and the American College of Cardiology, through which he was on a team of three cardiologists who placed second in the nation in a Fellows-in-Training "Jeopardy" competition.