Back to search results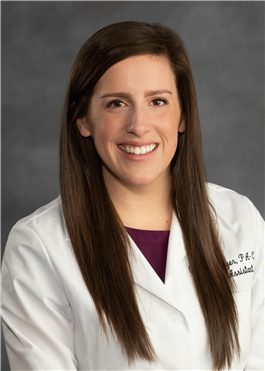 Catherine Howard, PA
William & Mary
332 N. Henry St.
Williamsburg, VA 23185
Education
PA Training
Shenandoah University USE NSC
Biography
Orthopaedic surgeons play a critical role in getting your bones and joints back to normal after an injury. But your team also includes advanced practice providers — APPs — like Catherine Meyer, who has built on her medical education as a physician assistant (PA-C) with advanced training specializing in orthopaedic care.
"I am skilled and confident in providing excellent care to community members and our local student athletes while also maintaining strong communication with the attending physicians and specialists in Richmond," says Meyer, who practices at VCU Health's location walkable to the College of William & Mary's campus. There, she cares for student-athletes, faculty and staff, and community members with their orthopaedic needs. At the Williamsburg location, VCU Health staff maintain close collaboration and communication with specialists and surgeons in Richmond at VCU Medical Center.
Meyer chose to become a PA because it allows her to practice autonomously and collaborate and support fellow physicians and surgeons, who in turn supervise her practice. "Collaborative medicine is always in your best interest and provides multiple opinions and perspectives to a case and diagnosis," says Meyer, who is a member of the American Academy of Physician Assistants. "I chose orthopedics because I love the variety of conditions we see and treat. Orthopedics also provides vast opportunity for hands-on skills and procedures."
Orthopaedic treatment can vary, including observation and medication, injections, support devices, therapy and even surgery. And there is often not just one treatment or "magic wand," but a combination of various treatments that work collectively to improve one's condition. "My approach as a provider is to help educate and advise every patient on my perspective and opinion while empowering them to feel a part of the decision-making process," she says.
Advice to patients: "Use patience. Although an accident or injury can occur in a matter of seconds, treatment and rehab takes weeks and months. Our goal is always to get you back or even better to where you were, but you must be willing to work hard to get there."
Locations
William & Mary
332 N. Henry St.
Williamsburg, VA 23185