Back to search results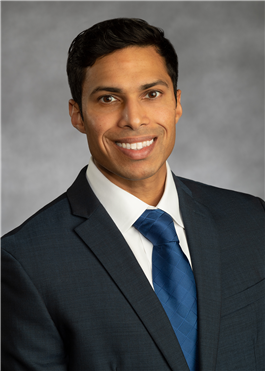 Shalin Shah, DO
Education
Medical School
New York Institute of Technology College of Osteopathic Medicine
Internship
UPMC Pinnacle Health Harrisburg Hospital
Residency
UPMC Pinnacle Health Harrisburg Hospital
Fellowship
The Louis A. Goldstein Spine Surgery Fellowship, University Of Rochester Medical Center
Fellowship
Arthritis, Complex Tumor, Trauma, and Infection surgery, The San Diego Spine Foundation
Biography
Precision-focused treatment and care for spinal patients, every step of the way
As an orthopaedic spine surgeon, Dr. Shalin Shah understands that to succeed requires not only surgical skill, but gaining his patients' trust and providing them with individualized care.
"Spine surgeons have to be at 100 percent every day for every patient," he says. "These are complex cases, with unique patients, and quality treatment requires a lot of physical and emotional precision."
Dr. Shah helps patients recover from arthritis, trauma, tumors, spinal infections, and other spine conditions as part of the Orthopaedics and Spine team at VCU Health. The team has multiple locations throughout Central Virginia. Dr. Shah is also one of a handful of spine surgeons who treat patients at the Level 1 trauma center at VCU Medical Center, bringing his advanced fellowship training in trauma to care for patients in critical need.
Dr. Shah conducts adult deformity surgery as well as minimally invasive spinal procedures that offer faster recovery, less pain, and lower risk of infection. His approach to care is rooted in honest and open discussions with every patient, and he is dedicated to providing each person an in-depth explanation of their diagnosis as well as a detailed treatment plan tailored to their own needs and wishes. The goal: Help patients get back to a healthier and less painful life.
"It's important to stay conscientious on every patient's overall health from the time they walk into a clinic, through surgery, and for many years after," says Dr. Shah, who is fellowship trained and eligible for Board certification with the American Osteopathic Board of Orthopedic Surgery.
Spinal cases are naturally complex, and unique to every person. "Ten different experienced spine surgeons may give you 10 different treatment options, all of which may be correct," he says. Deciding to take a patient case, he says, requires humility, and he only accepts patients he believes have a good chance of positive outcomes under his care. "Ultimately, we work together to decide the best course of treatment that will restore mobility and function and improve your quality of life," he says.
Dr. Shah has significant education and experience backing him up, including two fellowship trainings treating adult spine diseases ranging from run-of-the-mill arthritis to complex tumor, trauma, and infection surgery. He has added training in minimally invasive spine techniques that allow for quicker recovery, reduced infections, and decreased bleeding, and pain.
He is also committed to constantly learning and striving for better results for patients by staying on top of the latest research in his field. And on that note, he also brings a passion for teaching the next generation of spinal care practitioners as an assistant professor in the VCU Department of Orthopaedic Surgery.
"I enjoy getting residents and medical students excited about the wonderful world of the spine," Dr. Shah says.
Dr. Shah is involved in several professional societies to stay current in the fast-changing world of spine surgery, including the Cervical Spine Research Society, International Society for the Advancement of Spine Surgery, North American Spine Society, the Lumbar Spine Research Society, and the American Osteopathic Academy of Orthopedics. He also has a passion for global health initiatives, and has volunteered overseas to perform pediatric spinal deformity surgery to children in need.
Advice to patients: "If you step into my office or I walk into your hospital room, I will do my best to get you to the right place, whether it's something I can specifically fix or not. I will do all I can to help you understand your choices, including the benefits and risks of each option. Most importantly, I will be available every step of the way because I'm dedicated to providing my best to each and every patient."