Back to search results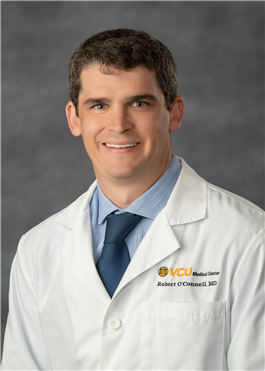 Robert O'Connell, MD
Sports Medicine
Orthopaedics
Education
Medical School
VCU School of Medicine
Internship
VCU School of Medicine
Residency
VCU School of Medicine
Fellowship
Mississippi Sports Medicine and Orthopaedic Clinic
Biography
Getting patients back to doing what they love — in sports or life
Whether it's returning to golf or running, school sports, or playing with the grandkids, every patient with a bone, muscle, or joint conditions has a personal goal in mind. And helping patients achieve those goals is what motivates Dr. Robert O'Connell.
"I have always enjoyed being able to help get people back to doing the things that drive them," says Dr. O'Connell. "It's extremely gratifying and an honor to be able to help someone improve their quality of life."
Dr. O'Connell is an orthopaedic surgeon at VCU Health and assistant professor in the VCU School of Medicine's Department of Orthopaedic Surgery, specializing in Sports Medicine. The surgeons and residents there practice out of five sites across greater Richmond (including the Level I trauma center at VCU Medical Center), caring for a wide range of injuries that are often related to athletic participation, with patients at all levels of competition.
In terms of procedures, Dr. O'Connell specializes in minimally invasive arthroscopic and open surgery of the shoulder, hip, and knee, with a focus on joint preservation. He handles surgeries for rotator cuff tears, cartilage injuries, knee ligament/meniscal tears, and hip tears. He also performs shoulder replacements, fracture fixations, elbow arthroscopy and many other routine procedures, such as hip, knee, and shoulder injections. For most of his procedures, patients can go home on the same day of the surgery.
To be a successful orthopaedic surgeon, however, requires more than time in the clinic, dedication to patients, and a commitment to lifelong learning in a fast-evolving field. "You have to really be involved in the community," he says. "That's why you see sports medicine physicians serving in important roles for many local schools and teams, because our work with them can have a significant impact on a lot of our student-athletes' futures. I enjoy getting to take care of athletes so they can excel." (He's a golfer and runner himself).
It also helps, he notes, to have a good orthopaedic surgeon you can call on for advice, or in the event you're injured.
Dr. O'Connell joined VCU Health after completing his residency here. He brings a background in biomedical engineering to his knowledge of complex arthroscopic procedures, which often require implantations to repair bones or replace missing joints. "It helps me understand the implants and devices that we use, and hopefully will position me in a place to help develop new techniques in the future," he says.
Advice for patients: Be an advocate for yourself and find someone to help you navigate the system. Don't settle and if you aren't comfortable with a plan of care, speak up and be involved in the decision-making process. Despite our best efforts, the medical system can be daunting but it is our goal to make it as easy and seamless for you and your family as possible.
Professional Affiliations
American Academy of Orthopedic Surgery
Arthroscopic Associate of North America
American Orthopedic Society for Sports Medicine
Virginia Orthopedic Society
AOA Emerging Leaders Program
Professional Activity/Team Coverage
AANA Fellowship Committee
Randolph Macon- Head Team Physician
William and Mary- Assistant Team Physician
Virginia Commonwealth University- Assistant Team Physician
Chesterfield Public School System- Team Physician
For a list of publications, please visit PubMed.
Honors and Awards
Best Resident Award, VCU Orthopedic Surgery, 2019
Resident Leadership Forum Nominee, AOA, 2018
VCU Subspecialty Medical Student Teaching Award, 2016
Alpha Omega Alpha Medical Honor Society, 2013
---
Clinical Interests
Cartilage restoration; Joint preservation; Hip arthroscopy; Complex knee and shoulder reconstruction; Regenerative medicine