Back to search results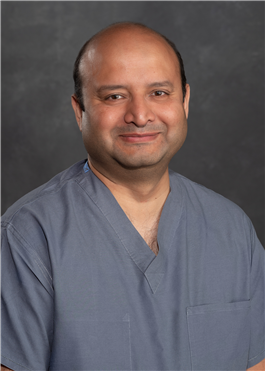 Muhammad "Irfan" Saeed, MD
Locations
Education
Medical School
Allama Iqbal Medical College
Internship
Drexel University College of Medicine
Internship
Hahnemann University Hospital
Residency
Drexel University College of Medicine
Residency
Hahnemann University Hospital
Fellowship
Baylor University Medical Center
Biography
'My goal is that every person get the best care possible'
Dr. Muhammad "Irfan" Saeed performs kidney transplants on both adults and children whose lives can be saved with a donated organ.
Dr. Saeed is Kidney Transplant Surgical Director at VCU Health Hume-Lee Transplant Center. Here, he oversees kidney transplantations at one of the nation's leading and most surgically advanced transplant programs. Of Hume-Lee's 494 transplants in 2021, more than half — 284 — were kidneys.
Such growth is thanks in part to a thriving living-donor program that allow for healthy people to donate a kidney (or a portion of their liver) to a recipient, and continue to live a long and healthy life.
Dr. Saeed has a special interest in research around surgical quality – or, how to provide effective, efficient, and fiscally responsible health care to every patient, every time. In addition to transplants, Dr. Saeed performs dialysis access surgery, such as creation of fistulas or grafts for placement of dialysis catheters. And while he has mastered the surgical methods, the field of transplantation remains challenging for other reasons.
"We are facing a huge organ shortage, and have issues around reaching people who need care, and then performing such treatment in a cost-effective manner as healthcare costs rise," Dr. Saeed says. "Everyone can do their part by becoming an organ donor to help us save as many lives as possible."
Dr. Saeed approaches every surgery as if the patient on the table is his own family member. "I will do anything and everything in my powers to help them," he says. "We are on the same team, and my goal is that every person gets the best care possible."
Advice to patients: "Prevention is better than cure. If you have diabetes mellitus or hypertension, please see your medical doctors routinely, maintain a healthy lifestyle and don't smoke."
Clinical Interests
Kidney Transplant Surgery