Back to search results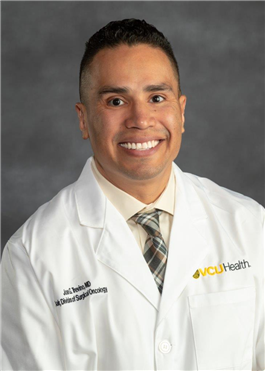 Jose G. Trevino, II, MD, FACS
Education
Medical School
University of Illinois College of Medicine
Internship
University of Illinois
Internship
University of Illinois
Residency
Surgery, University of Illinois
Research Fellowship
Cancer biology, University of Texas M.D. Anderson Cancer Center
Clinical Fellowship
Surgical oncology, Moffitt Cancer Center
Postdoctoral research fellowship
Tumor biology, Moffitt Cancer Center
Biography
Jose G. Trevino, MD, FACS, is Chair of the Division of Surgical Oncology at the VCU School of Medicine and Surgeon-in-Chief at VCU Massey Cancer Center. He also holds the Walter Lawrence, Jr., Distinguished Professor of Oncology at Massey and is an Associate Professor in the Department of Surgery, VCU College of Medicine. In his role as chair, Dr. Trevino leads one of the largest divisions in the Department of Surgery. As surgeon in chief at Massey, he serves as the lead oncology surgeon and demonstrates significant innovative approaches to cancer surgery.
Dr. Trevino joined VCU Health in November 2020 from the University of Florida-Gainesville, where he taught since 2011 as an Associate Professor of Surgery with tenure in the Division of Surgical Oncology and Pancreaticobiliary Surgery. He's an accomplished surgical oncologist specialized in treating pancreaticobiliary diseases including cancers of the liver, bile duct and pancreas.
"VCU Health and Massey are amazing institutions, and I'm looking forward to working with the diverse population of Richmond," says Trevino. "I'm particularly interested in contributing to Massey's efforts to decrease cancer disparities, especially among urban and rural communities."
In addition to caring for patients and teaching, he is a physician-scientist who investigates pancreatic cancer tumor biology, microenvironment, cancer-induced muscle wasting (cachexia) and how it can all relate to pancreatic cancer health equity in underserved and underrepresented communities. His research hopes to develop novel therapies for pancreatic cancer and advance the field of research in pancreatic cancer health disparities.
Trevino's most recent groundbreaking study on ethnic subgroups and pancreatic cancer outcomes, published in the journal Cancer Medicine, is one of the first to examine the connection between the disease and ancestral racial diversity among Black and Latinx populations.
"The research that I started in 2012 investigates the biology that makes us different," said Trevino. "Blacks seem to do worse clinically with pancreatic cancer, and Latinx populations seem to have better clinical outcomes. Is it merely socioeconomic or is there a biological component behind this? We need to further look at sub-classifications within ethnicities. Different ancestries might be more protective than others, and these differences might be a key to developing better targeted therapeutics."
Trevino also champions the need for increased government support to continue the investigation. "We need more funding for pancreatic cancer research, and I've been working with the NIH regularly to prove this point," said Trevino. "Through continued disparities research, I think our government funding bodies will provide further support toward recognizing pancreatic cancer, which is soon to be the second-leading cause of cancer-related deaths in the U.S., as a significant cancer health disparities challenge."
In recognition of his scientific contributions, leadership in pancreatic cancer translational research and participation as an ad hoc reviewer, Dr. Trevino was recently inducted as a chartered member of the NIH Developmental Therapeutics study section, Oncology 2-Translational Clinical Integrated Review Group.
Clinical Interests
Cancer Surgery
Pancreaticobiliary Diseases
Pancreatic Cancer
Cancer-induced Muscle Wasting (Cachexia)
Health Equity
Disparities Research