Back to search results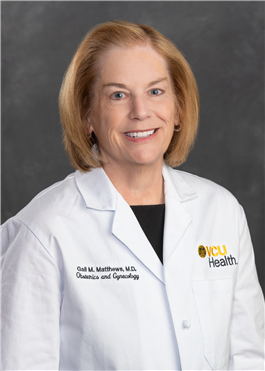 Gail Matthews, MD
Maternal Fetal Medicine
Obstetrics and Gynecology
Education
Medical School
Eastern Virginia Medical School
Internship
Eastern Virginia Graduate School Of Medicine
Residency
Eastern Virginia Graduate School of Medicine
Fellowship
Stony Brook University Graduate School of Medicine
Biography
A Maternal Fetal Medicine doctor specializing in high-risk pregnancies and mom-baby care
Pregnancy can be a new and exciting time for expectant parents. But for others, it can be complicated and challenging. And for these parents, there are physicians like Gail Matthews, M.D. who stand ready. She shares the happiest moments of her patients' lives and is also there for the more trying times.
Dr. Matthews is a board-certified OB/GYN specialist on our Maternal Fetal Medicine team. Maternal Fetal Medicine (MFM) requires an additional three years of fellowship training after completing an OB/GYN residency. Physicians like Dr. Matthews — who care for both the mom and baby — treat complications such as pre-term labor, preeclampsia, fetal growth restriction, and placenta issues, among other conditions. They care for pregnant individuals with pre-existing conditions, as well as complications caused by pregnancy.
"Caring for patients is a privilege, and over many years of practicing medicine I have learned to do my very best to treat every person as unique," she says. "Most parents expect a normal pregnancy, but when this does not happen there is confusion, fear, sometimes grief, sometimes regret and unique stress in dealing with unfamiliar issues that can rock their world."
MFM-trained OB/GYNs also perform high-level ultrasounds to evaluate the fetus, as well as prenatal diagnosis of medical conditions when requested by an expectant mother or couple.
While ultrasounds give physicians the opportunity to assure patients that all is progressing normally for the baby, "in the sad situations when a fetal problem is diagnosed, we have the knowledge to counsel patients about the findings and support them as we discuss anticipated outcomes and options for further diagnoses and care," she says.
Dr. Matthews recognizes that no matter how many times she may have seen a pregnant patient with diabetes or a fetus with a heart anomaly or other complication, she remembers that what may be somewhat routine for her is not for them.
Thankfully, she's practicing medicine and people are getting pregnant in a time of rapid scientific advances surrounding maternal-fetal medicine.
"Even in the past few years, advances in genetics and genetic testing give us a new window into the diagnosis and potential treatments in diseases for both mom and baby," Dr. Matthews says. "Keeping up to date on new and evolving research and implementing new information into practice makes medicine an ever-evolving and intellectual challenge. But I embrace the challenge."
Prior to joining VCU Health, Dr. Matthews, a Virginia native, spent a large part of her professional career in the Northeast in both academic and private practice OB/GYN settings.
"I am well aware of VCU Health's reputation in the state, nationwide, and beyond," she says. "So when offered the chance to return home, I easily committed to join a well-respected organization known for excellent patient care, unique attention to quality and safety issues, and support for cutting-edge research."
But beyond that, she says, it's the people — colleagues and diverse patients under her care — that she appreciates every day. "I have met some of the kindest people — from patients, to colleagues, to staff who always say 'Hello' and wish me a nice day, make me smile," she says. "I have a job that completes me because patients and referring physicians place their trust in me. I never forget what a privilege it is to be a physician."