Back to search results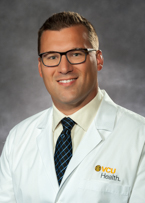 Russell Lacey, MD
Physical Medicine and Rehabilitation
Physical Medicine and Rehabilitation
Locations
Education
Medical School
Wright State University
Internship
Kettering Medical Center
Residency
VCU Medical Center
Biography
Dr. Russell Lacey specializes in neurorehabilitation, improving a patient's function and independence following neurologic injuries. His particular clinical interests include brain injury, concussion, and stroke rehabilitation. He finds helping patients and their families through the full continuum of rehabilitation, from initial hospitalization though inpatient rehabilitation and outpatient therapies, rewarding and gratifying.
Dr. Lacey also specializes in management of spasticity, which is muscle tightness or stiffness, a common feature following neurologic injury. In his clinics, treatments of spasticity include medication management, Botox injections and intrathecal baclofen pump management.
Dr. Lacey is from Ohio, where he received his undergraduate education in zoology at Miami University in Oxford, OH. He received his master's degree in anatomy at Ohio State University and his medical degree from Wright State University in Dayton, OH. He then completed his residency in Physical Medicine and Rehabilitation at Virginia Commonwealth University where he excelled academically and in the clinical setting.
Dr. Lacey is married with two children, a son and a daughter. He is an avid fly-fisherman and fan of Ohio State football and Atlanta Braves baseball.