Back to search results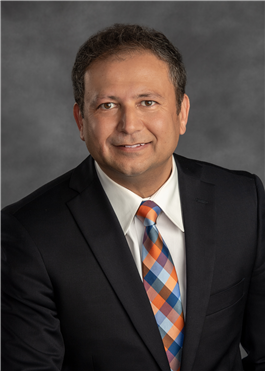 Dipesh Shah, MD
Education
Medical School
NHL Municipal Medical College
Fellowship
Mayo Clinic School of Graduate Medical Education
Fellowship
University of Pittsburgh Medical Center
Residency
Civil Hospital, BJ Medical College
Residency
GB Pant Hospital
Residency
LPS Inst. of Cardiology
Biography
Above and beyond — and highly trained — to care for every heart.
No matter the type of heart surgery you may require, Dr. Dipesh Shah can do it, has done it, and will perform it with confidence and compassion.
"Right from my medical college days, I was fascinated by the anatomy of the human heart," says Dr. Shah, chief of cardiothoracic surgery and surgical director of cardiac transplantation at the Central VA Health Care System (CVHCS). VCU Health has a long-standing academic and medical partnership with CVHCS in Richmond. During medical school in India, he shadowed cardiothoracic (heart and chest) surgeons during clinical rotations, fueling his interest in cardiac surgery. "I have always been fascinated and inspired by the history of cardiac transplantation and medical research in heart failure. Today, I can handle the entire spectrum of heart surgeries, but it is as important for me to go above and beyond to provide you and your family with the most compassionate care in and out of the operating room. To me the patients' needs always come first. My patients will always have my 100% effort and attention until they don't need me."
Dr. Shah completed his fellowship in cardiothoracic surgery at the renowned Mayo Clinic in Rochester, Minnesota, and gained additional fellowship training in heart failure and thoracic transplantation at the University of Pittsburgh Medical Center (UPMC), Pittsburgh. He also has an appreciation for teaching the new generation of heart surgeons, fellows and residents, and mentors his younger peers in his role as an assistant professor at the VCU School of Medicine. Prior to joining VCU Health in early 2021, he was an assistant professor of surgery in the cardiothoracic surgery division at Washington University School of Medicine in St. Louis, Missouri.
In addition to heart surgeries, Dr. Shah performs heart transplants at the CVHCS. He also has additional training in surgical treatment of heart and lung failure through mechanical circulatory support devices. He is trained in advanced transcatheter aortic valve replacement (TAVR), off-pump coronary artery bypass graft (CABG), minimally invasive cardiac valve surgery, and aortic root and aortic arch surgeries. He is also very passionate about the surgical treatment of Hypertrophic Cardiomyopathy (HCM).
And, as important as he believes it is to take care of you, he cannot do that without taking care of himself, too: Outside of treating patients at the VA Medical Center and teaching students and surgeons, he enjoys calligraphy, photography and high-intensity interval training.
Advice to patients: "Take care of your heart and the heart will take care of you! Follow a healthy-heart lifestyle."
Clinical Interests
Clinical outcomes research; Wireless implantable Cardiac support devices; Xenotransplantation