Back to search results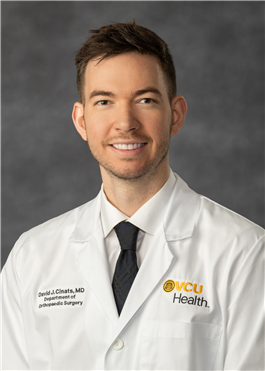 David J Cinats, MD
Education
Medical School
University of Calgary Cumming School of Medicine
Residency
University of Calgary Cumming School of Medicine
Fellowship
SUNY Upstate Medical University|University of British Columbia Faculty of Medicine
Biography
Using cutting-edge technology, and compassion, to give hope to patients with limb injuries
When faced with a life-altering injury, bone infection, or congenital limb deformity, many patients may wonder if their options for treatment are limited.
Dr. David Cinats wants them to know that's not the case.
"The most common thing I hear from patients is that they wish they would have come to VCU Health sooner," he says. "I want patients to know that we consider the full spectrum of care and options to ensure that we are listening to them and delivering the best treatment possible."
Dr. Cinats heads the Limb Salvage and Reconstruction program at VCU Health, which is housed at the Adult Outpatient Pavilion. This central location allows Dr. Cinats to tap into the expertise of his colleagues — such as those in wound care, vascular, plastic and reconstructive surgery — for a multidisciplinary treatment approach. Orthopaedics is among five "high-performing" specialties at VCU Health as ranked by U.S. News & World report.
"Our program treats people with severe limb injuries in order to avoid amputation and regain their limb function. We serve patients from the entire mid-Atlantic region and employ cutting edge surgical techniques and equipment to reconstruct limbs after trauma, cancer, infection, and childhood deformities," Dr. Cinats says.
With his dual fellowship training in both orthopaedic trauma and microsurgical reconstruction of the upper extremities, Dr. Cinats treats trauma patients with broken bones as well as severe soft tissue injuries and nerve injuries.
"I came to VCU Health because I wanted to be a part of an institution that was constantly striving to provide the absolute best in patient care," he says. When patients have experienced limb injury, he wants them to know that they will be treated as individuals and people first and foremost, as he takes into account each patient's unique history and lifestyle needs.
And specializing in orthopaedic trauma requires Cinats not only consider each patient's daily activities and health goals, but also acknowledge the deep emotions that are experienced alongside a traumatic medical event.
"My goal is always to get the best possible outcome for my patients, and that means a dedication to listening and understanding their conditions and how it affects their lives," he says. "We have the top physicians from around the country working in world-class facilities at VCU. You are in good hands here with every aspect of your care."