Back to search results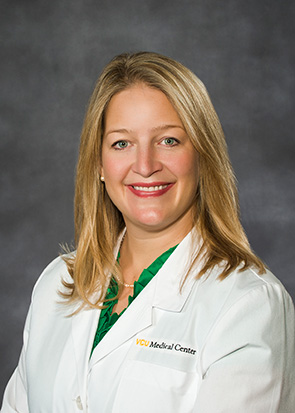 Catherine B Ham, MD
Locations
Education
Medical School
VCU School of Medicine
Internship
VCU Medical Center
Residency
VCU Medical Center
Fellowship
VCU Medical Center
Biography
Carrie Ham, MD
Bringing relief to long-time headache sufferers
When the VCU Health Headache Clinic opened in 2016, Dr. Carrie Ham learned quickly that it was filling a major need in helping people live better lives. Headaches are often under-diagnosed yet dramatically interfere with daily life. As the only facility of its kind in central Virginia, the Headache Clinic is part of the Short Pump Pavilion, open to patients from around the region.
"We often treat patients who drive three-plus hours to see us, but they are willing to do it given the tremendous impact that these headaches and conditions have on their lives," says Dr. Ham, a neurologist who specializes in treating headaches and related pain. At the Headache Clinic, she and her team locate the triggers that cause a patient to react with pain, then develop a tailored treatment plan for each person.
"When patients first come to see me, they've often been suffering for some time. Headaches are very difficult to get perspective on, as they are literally 'in your head,'" Dr. Ham says. "Many patients have anxiety and feelings of guilt at letting loved ones down due to illness. It is always hard to see that suffering, but it is awesome to be able to provide hope that things will get better with the appropriate care."
Headaches cause sufferers to withdraw from many things they generally enjoy. In fact, headaches are the second most-disabling condition in the world, and the level of pain and related symptoms aren't always obvious to others. The most common conditions that Dr. Ham treats are migraine headaches, tension-type headaches, neck and facial pain, and post-traumatic headaches, which include concussions. She treats men and women ages 18 and older.
At the first visit, patients can expect a thorough exam, including sharing a comprehensive health history. Depending on the symptoms and possible diagnosis, Dr. Ham and her team might order X-rays or MRI imaging or blood tests – all of which can be done on-site at the N.O.W. Center.
Most importantly, patients often start their treatment at that initial appointment. And never have so many options been available to care for patients with headaches and related conditions.
"It's a very exciting time to be a headache specialist, as we have many new options – including monoclonal antibodies – that have revolutionized how we understand what causes migraines," Dr. Ham says. When VCU Health first began offering CGRP antibodies in the mid-2018, the response was overwhelming. People were lined up waiting for this injectable medication, which is revolutionary for reducing the actual number of migraines that might occur, rather than treating symptoms after a headache already has occurred.
"People no longer have to suffer in silence," she says. "We have many excellence therapies and treatments. Most patients have tremendous benefits over the time we provide care."
In addition to traditional medications, the Headache Center team has expert training for specialty procedures, including nerve blocks and Onabotulinum toxin injections. The on-site infusion center offers convenient treatment for patients who might benefit from intravenous therapy. Because the N.O.W. Center takes an interdisciplinary focus on helping patients to move, the clinic also provides for physical and occupational therapy, which allows for tailored care to address underlying causes of head pain.
"I became a physician because it allows me to play a positive role in others' lives," she says. "I'm grateful for this opportunity every day. Most of all, I enjoy seeing patients reengage with the things they love as they feel better."
After hours, Dr. Ham enjoys jogging along the James River with her dogs (both Samoyed breeds) and playing tennis.
Clinical and Research Interests
Electromyography, onabotulinum toxin as a migraine treatment, occipital nerve blocks