Back to search results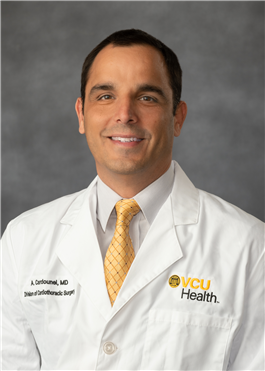 Arturo Cardounel, MD
Locations
Education
Medical School
Ohio State University College of Medicine
Internship
University of Pittsburgh Medical Center
Residency
University of Pittsburgh Medical Center
Doctoral Program
Virginia Commonwealth University
Biography
A commitment to science, medicine – and patients
If home is where the heart is, then Dr. Arturo "AJ" Cardounel is the ideal specialist in the ideal place.
In joining VCU Health, Dr. Cardounel has returned to Richmond after completing his cardiothoracic surgery residency at the esteemed University of Pittsburgh Medical Center. The local terrain is very familiar: He earned his undergraduate degree at the University of Richmond, and he earned his Ph.D. in VCU's Department of Physiology and Biophysics.
His doctoral and medical degrees reflect a passion for both science and patient care.
"VCU Health has a rich history as a center for innovation in surgery," Dr. Cardounel says. "This philosophy of innovation, combined with world-class clinical resources, provides the ideal environment to deliver care to our patients."
Dr. Cardounel's cardiovascular research aligns with his clinical interest in heart failure. He explores the molecular mechanisms involved in right ventricular dysfunction, which often develops following the more heavily researched left-sided failure. (While the left ventricle may not pump enough blood around the body, the right ventricle may be too weak to pump enough blood to the lungs.) Contributing factors can include high blood pressure in the lungs, pulmonary embolism, sepsis and acute lung injury.
Dr. Cardounel is particularly interested, though, in how those efforts improve outcomes in cardiac care.
"I bring a deep devotion to translational research and the bench-to-bedside approach for discovery," he says, referring to the process of taking research results from the laboratory (bench) into the clinic for the direct benefit of patients.
Dr. Cardounel notes that success in cardiothoracic surgery "is a continued commitment – to the mastery of surgery, to research and to passionate advocacy for your patients." Indeed, patients are at the heart of the matter, particularly as they face health conditions and surgical needs of high complexity.
"I am a strong believer that decision-making should be shared between physician and patient," Dr. Cardounel says. "Open and clear communication is the key to a meaningful and rewarding experience for patients and providers alike. I'm an advocate and partner for my patients, and I want them to play an active role in their health care."
Outside Interests: Spending time with family. "Together with my wife Wendy and our two boys Landon and Alex, we enjoy the outdoors, traveling - and eating at all the amazing places Richmond has to offer."