Back to search results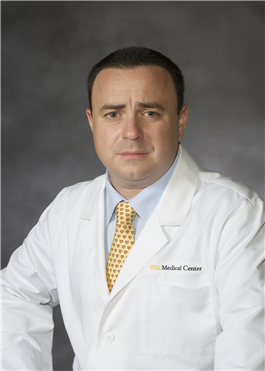 Antonio Abbate, MD
Cardiology
General Internal Medicine
Ambulatory Care Center
417 N. 11th Street
Richmond, VA 23219
Education
Medical School
Universita' Campus Bio-Medico of Rome, Italy
Fellowship
Universita Cattolica del Sacro Cuore of Rome, Italy, Adult Cardiovascular Medicine
Research Doctorate
Universita Cattolica del Sacro Cuore of Rome, Italy, Adult Cardiovascular Medicine
Residency
VCU Medical Center, Internal Medicine
Biography
A native of Fondi, Italy, Dr. Abbate joined the VCU Pauley Heart Center as Assistant Professor of Medicine and was promoted to the rank of Professor of Medicine with Tenure in July 2020 and of Physiology and Biophysics in July 2013. He was selected for the James C. Roberts Esquire Professorship in Cardiology in October 2013. Dr. Abbate divides his time between the Coronary Intensive Care Unit, the General Cardiology Practice, and sees patients in the Ambulatory Care Center at VCU Medical Center.
Dr. Abbate is the recipient of numerous awards and honors in both Italy and the United States, including several Young Investigator Awards for cardiology research, induction into AOA Honor Medical Society in 2005, and several Excellence in Teaching awards. He is a member of the European Society of Cardiology, the American Heart Association Basic Science Council and the American College of Physicians.
Dr. Abbate also leads a multidisciplinary team conducting Clinical and Translational Research Program. He is the lead investigator in several preclinical research studies in the VCU Pauley Heart Center and the Victoria Johnson Research Laboratories, examining the role of inflammation in heart disease. Dr. Abbate is also principal investigator or co-investigator on pilot clinical studies funded by the National Institute of Health, the American Heart Association, or Industry, aimed at identifying novel anti-inflammatory therapies for patients with acute myocardial infarction or heart failure. In the past year Dr. Abbate and his team has been leading research and clinical trials on hyperinflammation in COVID-19 pneumonia.
Dr. Abbate is the Medical Director of Clinical Research Unit in the C. Kenneth and Dianne Wright Center for Clinical and Translational Research. He has authored or co-authored over 300 articles, reviews and editorials that have been published in professionals journals. In addition, he has participated in more than 300 oral and poster presentations to national and international meetings. He is a member of the Editorial Board of the American Journal of Cardiology, the Journal of Cardiovascular Pharmacology and Minerva Cardiology and Angiology, and he is a peer reviewer for over a twenty international journals. For a list of recent publications completed at VCU, click here.
Clinical Interests
Cardiology
Inflammation
COVID-19
Locations
Ambulatory Care Center
417 N. 11th Street
Richmond, VA 23219